About Us
We at Mumbai Indian Restaurant are happy serving our customers with Indian cuisines. We are conveniently located at 2 Main Rd Place, Belair SA. Since we aim to serve our customers with great food and best customer service, we are accommodating delivery and pickup services on all days of the week mainly arranged for your convenience. Our wide array of Indian Cuisine includes Meal Deals, Entrees, The Curry Pot, Chef's Recommendations, Vegetarian Foods, Biryani, Naan Breads, Accompaniments, Soft Drinks, Tea, Coffee and Port. Some of our popular foods are Madras Lamb, Nariyal Chicken, Bangen Pahari and many more. For more of our list of delicious menu, click on Order Online button now.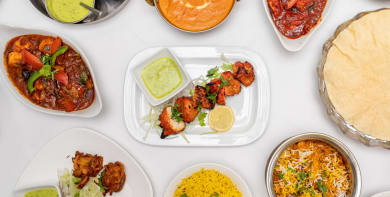 Reviews
Emma
"Food was very nice and came pretty quickly considering it was a Saturday night"
9/10/2021
Archie
"Great food, delivered on time, will be ordering again"
2/09/2021
Tracey
"Beautiful, full of flavour"
9/07/2021
Contact Us
Find Us
2 Main Rd Place, Belair, 5052
Opening Hours
Tuesday
5:00 PM - 9:00 PM
Wednesday
5:00 PM - 9:00 PM
Thursday
5:00 PM - 9:00 PM
Friday
5:00 PM - 10:00 PM
Saturday
5:00 PM - 10:00 PM
Please note, delivery times may vary.
We deliver to
5050 Eden Hills, 5051 Blackwood, 5051 Coromandel Valley, 5051 Craigburn Farm, 5051 Hawthorndene, 5052 Belair, 5052 Glenalta, 5062 Brown Hill Creek, 5062 Clapham, 5062 Hawthorn, 5062 Kingswood, 5062 Lower Mitcham, 5062 Lynton, 5062 Mitcham, 5062 Springfield